Regular price
Rs. 5,499.00
Regular price
Sale price
Rs. 5,499.00
Unit price
per
Sale
Sold out
³KASOL by HasanOud
The Himalayas, majestic and beautiful hide within them a certain experience that is overshadowed by the breathtaking sceneries. Cannabis, a weed which is well known for its various applications already. Green, almost tart and pungent yet eartht and widely accepted for recreational uses.
To recreate in a wearable scent, the perfumer sees sages and saints chanting mantras around a fire spreading the aroma in all directions. Forest floor punctuated with all kind of resins released from trees with the woods combining with the smoke to create a vibrant volume around you. Animalic nuances accompany the walk through the jungle on the outskirts of Kasol and inculcates the mysterious feel into a scent.
A dark green, freshly cut cannabis aroma is richly sweetened with sandalwood. Remains of an ambery resin along with the stem adds an airy sweet feel to the composition. The woody birch encapsulates the forests feel of wood and smoke. An incense, balsamic and sweet lends the depiction of the bonfire around which the sages sit.
The entire experience is mesmerizing enough to transport you to a higher spiritual realm. Contrary to the line of thought, a dab of civet signifies a desire with an animalistic and primitive character which is deep set usually but envoked here in the darkness of the forest.
DELHI By Hasan Oud 50ml Pure Purfum powerful floral fragrance
Share
View full details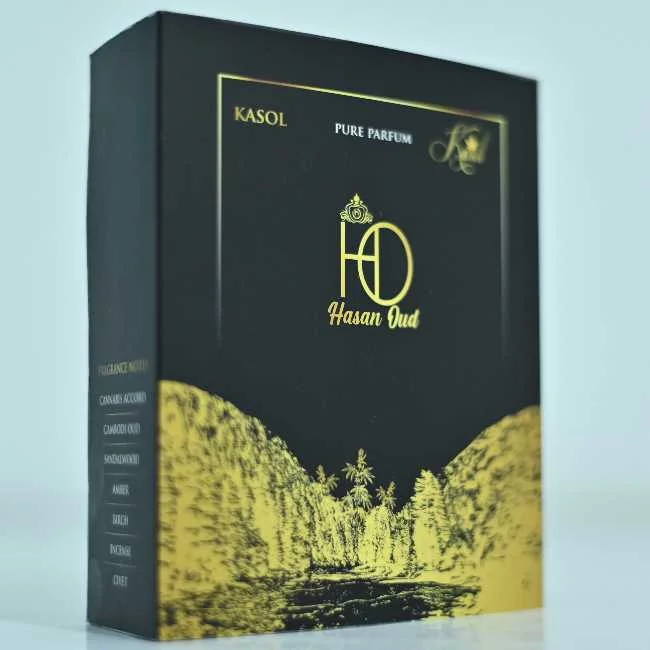 Kasol
The fragrance opens up as an earthy delight with a citrus angle. The citrus top notes are done beautifully with vetiver. The vetiver left in the background leaves a powerful yet soulful fragrance of the forest. Hassan siddiqui has done a great job in crafting this product.
What Experts Have To Say About Us