Regular price
Rs. 3,999.00
Regular price
Rs. 5,499.00
Sale price
Rs. 3,999.00
Unit price
per
Sale
Sold out
SEA SIDE FOREST by Hasanoud
Notes: vetiver, bergamot, lemon, citruses spices pepper, nutmeg, tobacco, sandalwood, and cedar.
Nestled deep within a lush seaside forest lies a world of enchantment and mystery. Imagine strolling along the shore with the sea breeze in your hair and the scent of the forest all around you. That is the essence of Sea Side Forest, a fragrance that transports you to a world of natural wonder.
The fragrance opens with a burst of citrusy freshness, the zesty notes of bergamot and lemon mingling to create a bright and invigorating opening. As the fragrance settles, warm spices of coriander, pepper, and nutmeg emerge, adding depth and complexity to the scent. But the real star of the show is the wet vetiver, its earthy, smoky aroma evoking the damp, mossy undergrowth of the forest.
As the fragrance evolves on your skin, you will discover hidden nuances of tobacco, sandalwood, and cedar, each adding their own unique character to the scent. This is a fragrance that is both bold and sophisticated, with a unique twist that sets it apart from other fragrances in its class.
Sea Side Forest is a fragrance that will appeal to those who appreciate the natural world and all its wonders. It is a scent that is at once invigorating and calming, evoking a sense of peace and tranquility. So why not take a journey into the heart of the forest and discover the magic of Sea Side Forest for yourself?
Best for. Those who love vetiver fragrance.
Longevity. Last for 10 to 12 hour on skin on fabric last for 24 hour.
Projection. Fills the entire room.
Compliments. Those who love citrus woody  smell they will appreciate it. Occasion. depends on wearer's personality .
Suitable for. summer and winter

buy exclusive perfumes
Share
View full details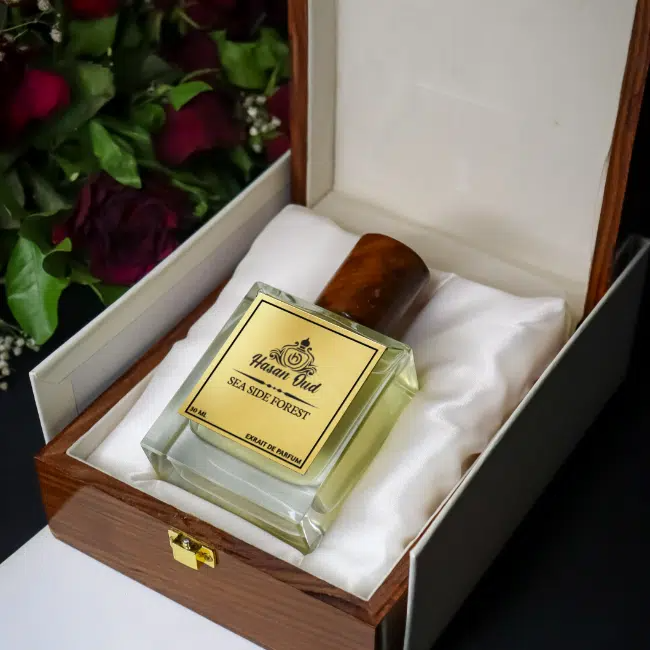 Great Mature Fragrance
Budget alternarive fragrance of Guerlain Vetiver..Really appreciate Hasan Siddiqui sahab and his team for making such a wonderful amazing fragrance. Keep doing well best of luck
SEASIDE FOREST ...This one surprises me, it is a really good & amazing-smelling perfume. I'm currently trying different fragrances from different houses and this one does not disappoint at all. One of the best by HASAN OUD along with Golden Old. Longevity is a bit ok and projection is the only concern for me (maybe due to the current humid conditions.).
Will surely recommend to friends and family!
Will surely recommend to friends and family!
Loved the products!
Multiple options to cater to each customer's style and taste.
A reliable choice!
I buy from them regularly. Never had a bad experience.
What Experts Have To Say About Us